Returning home is an experience that touches all. In chapter seven of All Quiet in The Western Front, Paul Baümer returns to his home in Germany after a long time at war. During chapter seven of the book Paul goes on leave to see his family in Germany. Although he is glad to be home he sees that his mother has cancer and is very sick. Paul returned home but is not able to adjust and breaks down in tears when he sees his sister.

"I lean against the wall and grip my helmet and rifle. I hold them as tight as I can, but I cannot take another step, the staircase fades before my eyes, I support myself with the butt of my rifle against my feet and clench my teeth fiercely, but I cannot speak a word, my sister's call has made me powerless, I can do nothing, I struggle to make myself laugh, to speak, but no word comes, and so I stand on the steps, miserable, helpless, paralysed, and against my will the tears run down my cheeks."

~

All Quiet on The Western Front

Chapter 7

When Paul get emotional from seeing his parents we see a differ side of him one where he is not a soldier, but a human being. This chapter is critical for understanding Paul and the soldier of World War One. I think we can all relate to a time when we have been so grateful and relieved that we just lose control of ourselves. In the end this chapter just empathized the horrors of war.
Powered by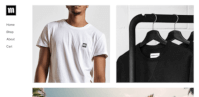 Create your own unique website with customizable templates.