"Thank you... motion sensor hand towel machine. You never work, so I just end up looking like I'm waving hello to a wall robot."

Jimmy Fallon


With new advancement in technology today people have been able to create incredible inventions that have blown the boundaries of what we thought was possible. Some of these new inventions have gain enough attention to be bought by companies like Google.

With inventions like these people have been able to do amazing things that with out the aid of these machines would be impossible. This video may not show much advancement in terms of ground breaking technology, but this video does show how inventive the human mind is.
Powered by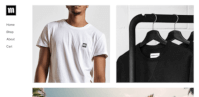 Create your own unique website with customizable templates.