The history of the music industry is inevitably also the story of the development of technology. From the player piano to the vinyl disc, from reel-to-reel tape to the cassette, from the CD to the digital download, these formats and devices changed not only the way music was consumed, but the very way artists created it.





Edgar Bronfman, Jr.

This past Friday was my birthday and as a present I got a record player from my mom and dad which is perfect because last year I got Led-Zeppelin, Mothership album on vinyl from my brother, so for the past year I've had this album and no way to listen to it. As you might expect the first thing I did when I got the record player was brush the dust off of one of the recode and put it on. In the past I had been told that listing to a song on an iPod is much different then listing to a song on a record player, so when I put the album in moved the needle over and began to listen I heard a much deeper more scratchy and richer version of the songs I had been listening to on my phone. I also felt a difference after I had become used to using the record player. The feeling of spinning the album on your finger and placing it rite on top of the bolt that holds it in while it spinning and then throwing the needle perfectly on the interval between songs and cranking the volume dial all in on swift flick is awesome. I would recommend any one with the opportunity to listen to a song on vinyl to do so.


Powered by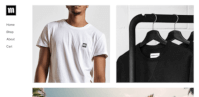 Create your own unique website with customizable templates.